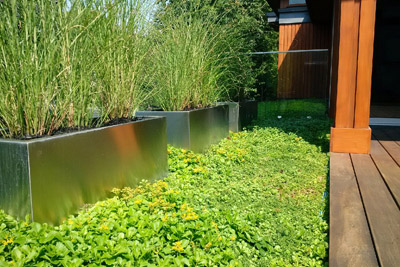 Green roof design is imperative to your green roof project's success and will help facilitate a smooth transition into the construction stage. We produce all necessary construction and detailed CAD drawings required for the installation of your project.
Our multi-disciplinary approach to green roof design means a qualified team of designers, engineers, horticulturists and technicians all working in unison with developers and home owners.
Every project begins with a site visit and inspection. We assess existing conditions and provide a site analysis to assist our clients in establishing their green roof project goals. After the preliminary planning stage has been completed, we develop a detailed concept drawing and layout for your green roof system. The type of planting material desired for your project will determine the depth of the growing medium or green roof soil needed to sustain the plants and maximize green roof benefits.
Factors to Consider:
Load carrying capacity of your roof structure, likely involving a civil engineer;
The type of planting material you want will largely depend on the soil depth. Grasses, asters and other perennials will require at least 6" of growing medium. The typical green roof plant of choice is the sedum specie. Also known as a succulent, it can survive in very adverse environmental conditions. Once established, they do not need to be irrigated. The establishment period could take approximately 1-2 years;
Roof accessibility, both immediately and over time;
The general condition of your roof. If it is older than 10 years, or has cracks or leaks in the membrane, you should consider re-roofing before considering your green roof goals.
Green Roof Typology
No two roof gardens are alike; that said, there are three primary types:
Extensive: a shallow and lighter system, this is the most common type of live roof. Soil depths range from depth from 2 cm or 0.79 inches to 12.7 cm or 5.0 inches;
Semi-intensive: a deeper green roof system where soil depths range from, 6" to 10". This system has greater planting options due to greater soil availability;
Intensive: typically characterized by soil depths beginning at 10", this type of eco roof system can support most types of plants, including shrubs and trees, but is heavier and needs more maintenance.